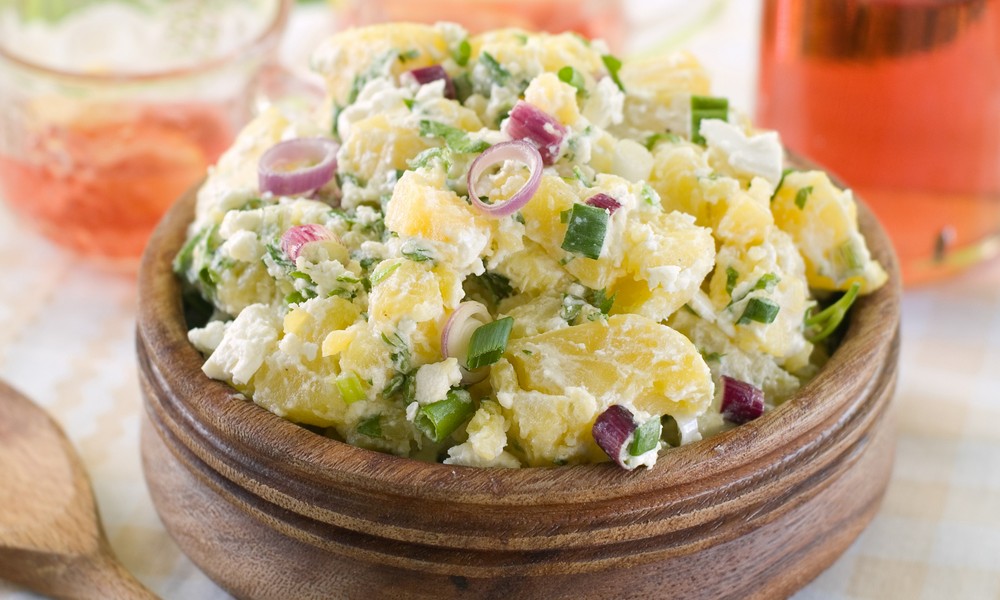 Potato salad recipes abound, with as many different recipes as there are families eating them. These salads come stuffed with mounds of potatoes and piles of various ingredients, dressings, and seasonings; however, the standard recipe for German Potato Salad has been handed down through multiple generations and continues to be a Stateline Chrysler Jeep Dodge Ram Fiat favorite today.
Traditionally, German Potato Salad is served hot with big links of spicy German sausage and lidded steins of potent German beer—but it would be just as scrumptious served alongside crisp pieces of fried chicken and icy-cold mugs of root beer if those are more to your taste. Use it for a delicious addition to a Memorial Day party, and prepare for your family and friends to be impressed.
German Potato Salad
Total Time: 1 hour
Ingredient Preparation Time: 20 minutes
Cooking time: 40 minutes
Servings: 4-6
Ingredients:
6 medium red-skinned potatoes, sliced 1/2-inch thick
2 green apples, peeled, cored, and sliced 1/2-inch thick
2 Perlzwiebel wild leeks or pearl onions, trimmed, peeled, and thinly sliced
6 strips of bacon
2 tablespoons all-purpose flour
3-1/2 tablespoons sugar
2/3 cup cider vinegar
1/3 cup warm water
2 teaspoons sea salt
2 teaspoons crushed black pepper
Directions:
Place potatoes in a pot and cover with cold water. Place over high heat and bring to a boil. Reduce heat to simmer and cook potatoes gently until fork-tender—about 15 minutes. Drain the water from the potatoes and return the potatoes to the hot pot, covered to keep warm.
Meanwhile, place the bacon in a wide saute pan over medium-high heat. Fry bacon until very crisp, turning as needed. Transfer the bacon to a paper towel-lined plate to drain, leaving the drippings in the saute pan. When bacon is cool enough to handle, break into crumbles.
Place saute pan with bacon drippings over medium heat and add the apples and leeks. Saute until softened slightly, about 3 minutes. Remove the apples and leeks from the pan, leaving the drippings in the saute pan. Add the flour, sugar, vinegar, water, salt, and pepper to the drippings and place over medium heat. Whisk and cook until the mixture thickens slightly, about 2 minutes. Reduce the heat to low.
Add the potatoes, bacon, apples, and leeks to the pan and toss gently, cooking until all ingredients warmed through. Serve warm.