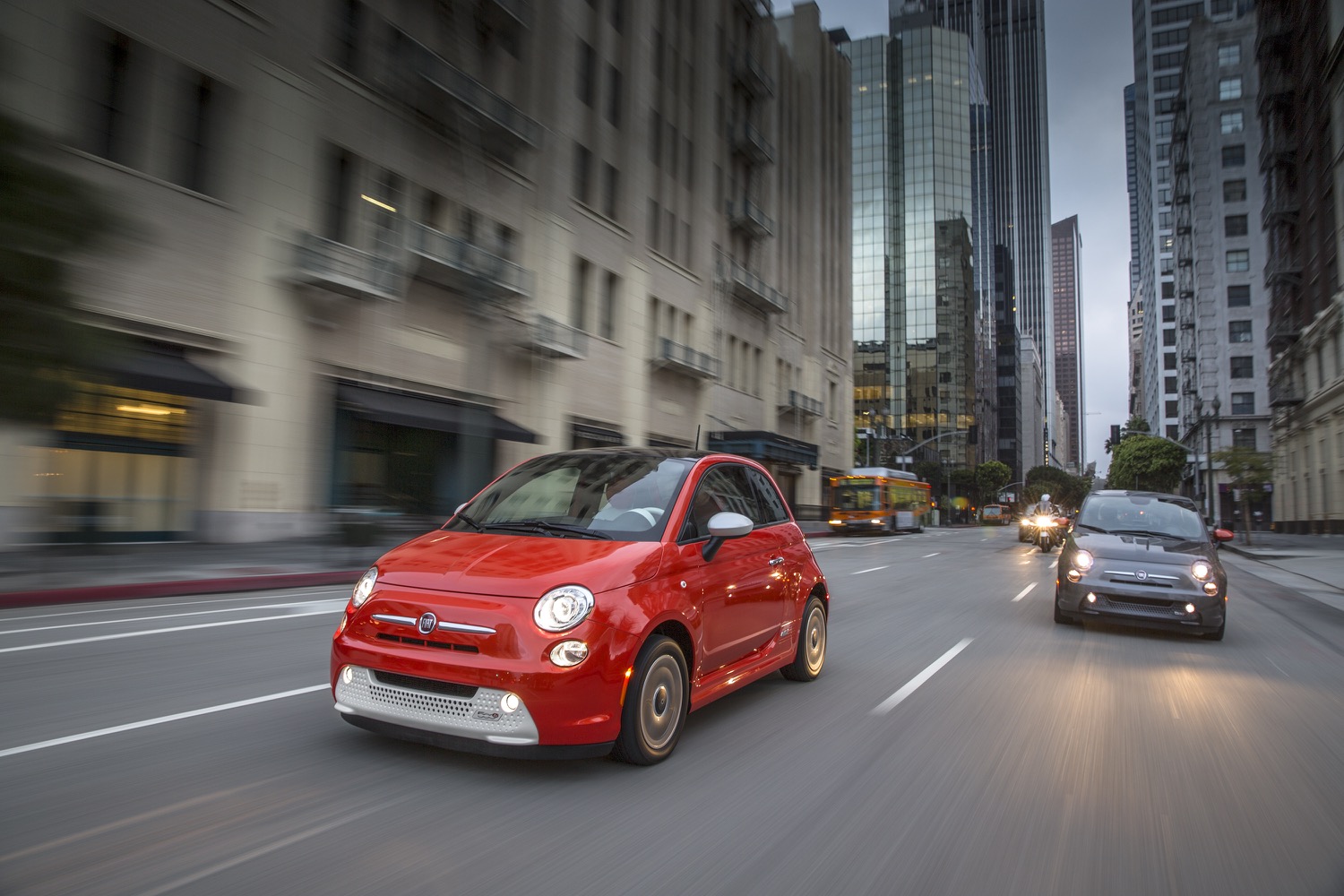 Fiat Electrifies The 500
Many automakers start out from scratch when they set out to build an electric car. But Fiat decided that it already had the makings of a solid one with its 500 hatchback. So it added an electric powertrain to create the 500e. The result is a car that looks like a standard Fiat 500, but uses no gas at all. An interesting combination, for sure.
Performance
The Fiat 500e combines the familiar go-kart-like driving dynamics of the Fiat 500 with zero-emissions electric driving. The electric powertrain not only helps you do your part to protect the planet, but also enlivens the driving experience.
Thanks to its compact proportions, the 500 is pretty maneuverable and generally fun to chuck around. But the electric 500e model also boasts 111 horsepower and 147 pound-feet of torque, which is 10 hp and 50 lb-ft more than you get with the 1.4-liter four-cylinder gasoline engine offered in the base 500. Because electric motors produce all of their power from a standstill, that torque is available right off the line. That kind of responsiveness can't be had with an internal-combustion engine.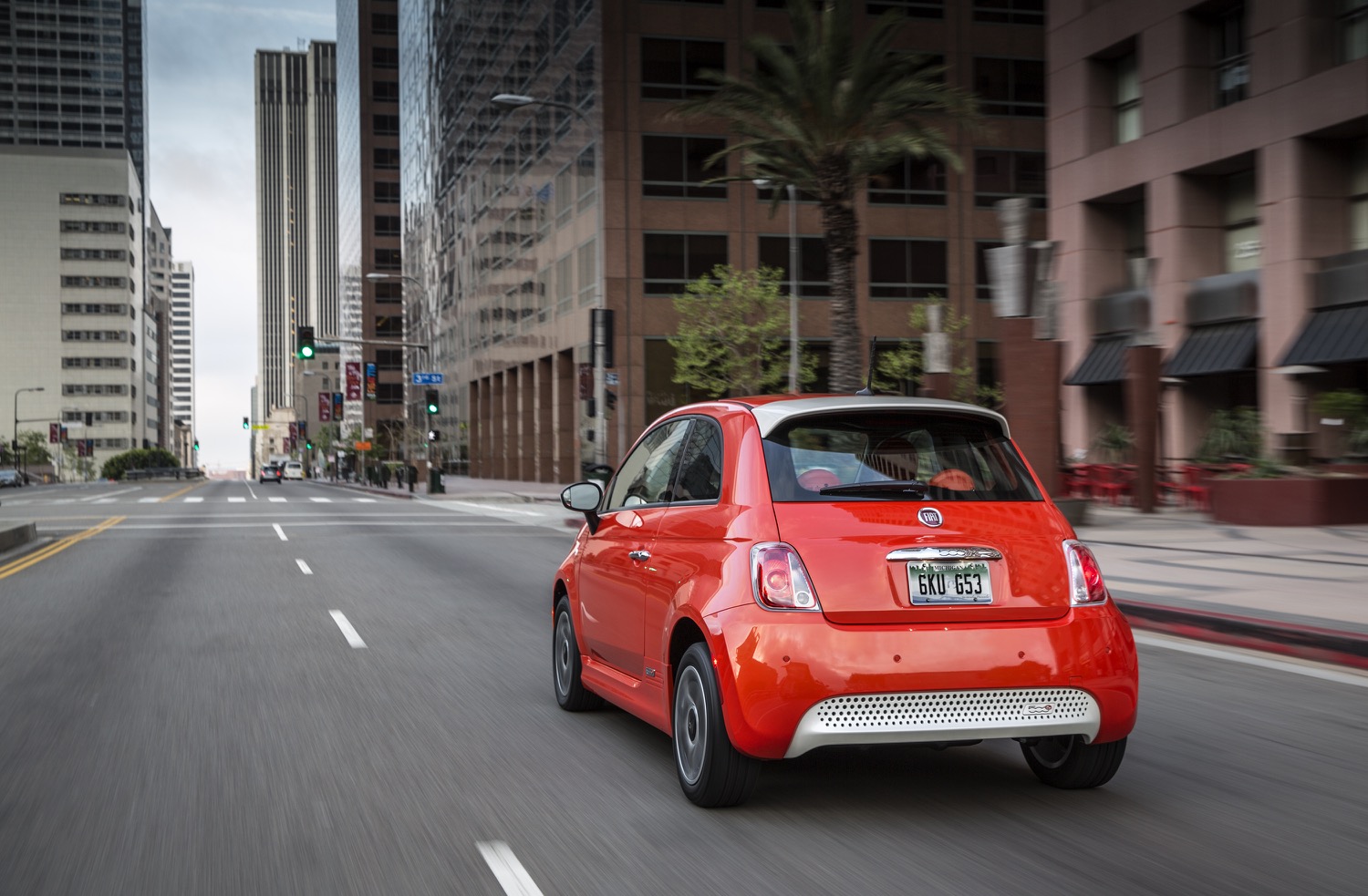 Like most electric cars, the 500e uses regenerative braking to recover heat energy when slowing down. In other cars, however, the regeneration is so strong that the car often begins to slow as soon as the driver lifts off the throttle. Fiat wanted to create braking feel that's more like a regular a gasoline car, so it engineered a "blended braking" system that can do that, while still recovering useful amounts of energy.
A 24-kilowatt-hour lithium-ion battery pack provides enough capacity for an EPA-rated 87-mile range. The 500e also garnered an efficiency rating of 112 MPGe combined. MPGe—or Miles Per Gallon equivalent—is the official measure of how far an electric car can travel on the energy equivalent of 1 gallon of gasoline. Recharging with the 6.6-kilowatt onboard charger takes less than four hours from a 220-volt Level 2 AC source.
Features
The 2017 Fiat 500e is a two-door, four-seat hatchback. While gasoline versions of the 500 are available nationwide, the 500e is sold only at certain Fiat dealerships in California and Oregon. Pricing starts at $31,800,** and your 500e purchase may qualify for a $7,500 federal tax credit, as well as state or local incentives.
Standard equipment on the 500e base model includes 15-inch aluminum wheels, fog lights, heated leatherette front seats, 50/50 split-folding rear bench seat, leather-wrapped multifunction steering wheel, heated power exterior mirrors, navigation, Uconnect infotainment system with 5.0-inch touchscreen and voice control, and more.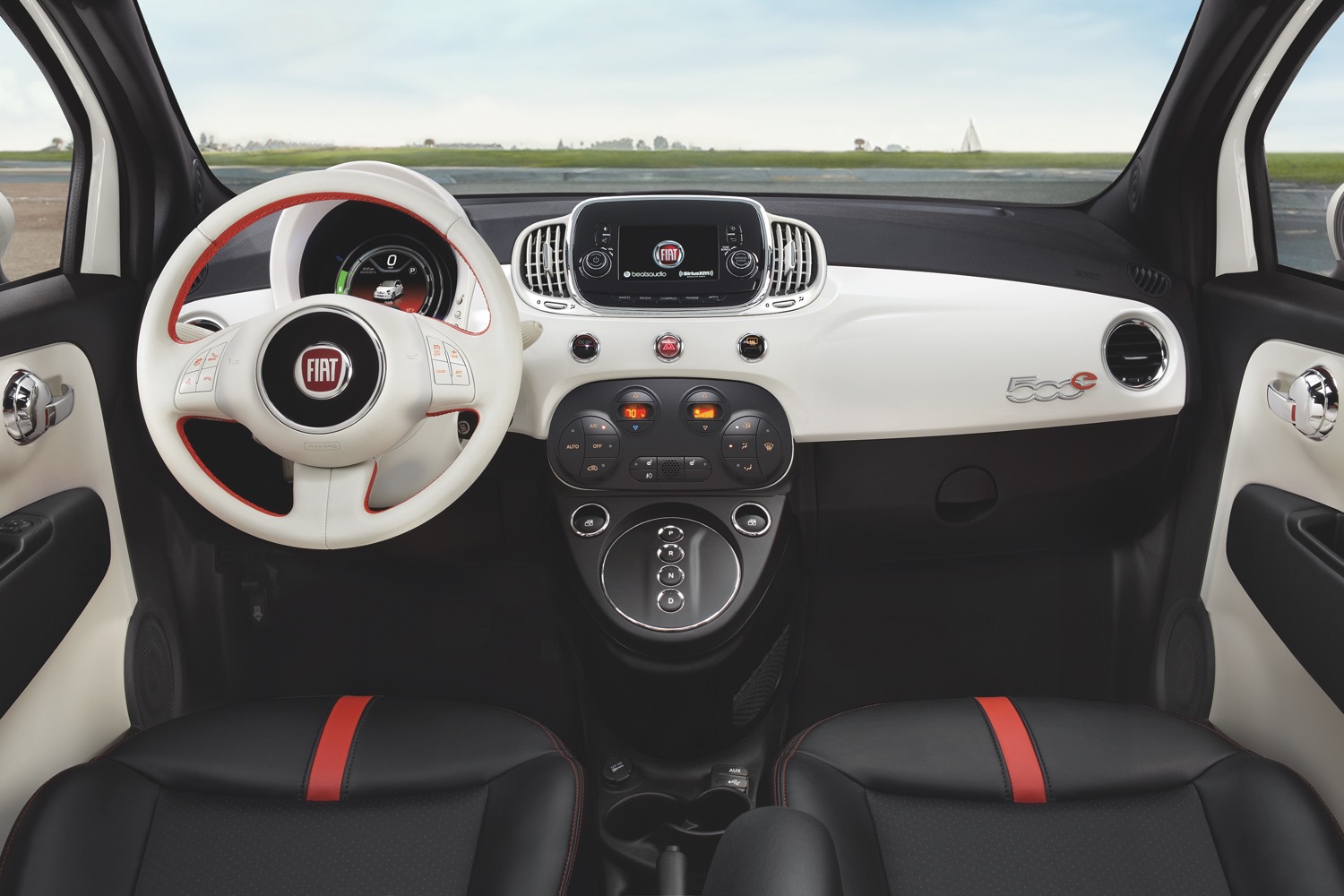 The 500e Sport model includes all of the applicable standard equipment from the base model, as well as black-trimmed headlights, orange exterior contrast trim, and model-specific wheels.
In addition to the standard equipment, a sunroof is available as an option, and buyers can choose from eight exterior colors and two interior trim colors.
Design
While some electric cars advertise their alternative powertrains with unusual styling, the 500e is for the driver that wants to fly under the radar. Except for some subtle model-specific styling cues, it looks like any other 500—which is no bad thing.
Today's 500 features a retro design inspired by the Fiat Nuova 500 that launched in 1957 and became an Italian style icon. That style is faithfully replicated in the modern 500's small footprint, round headlights, square taillights, and smooth front end. That, along with the 500's diminutive size, helps it stand out in traffic.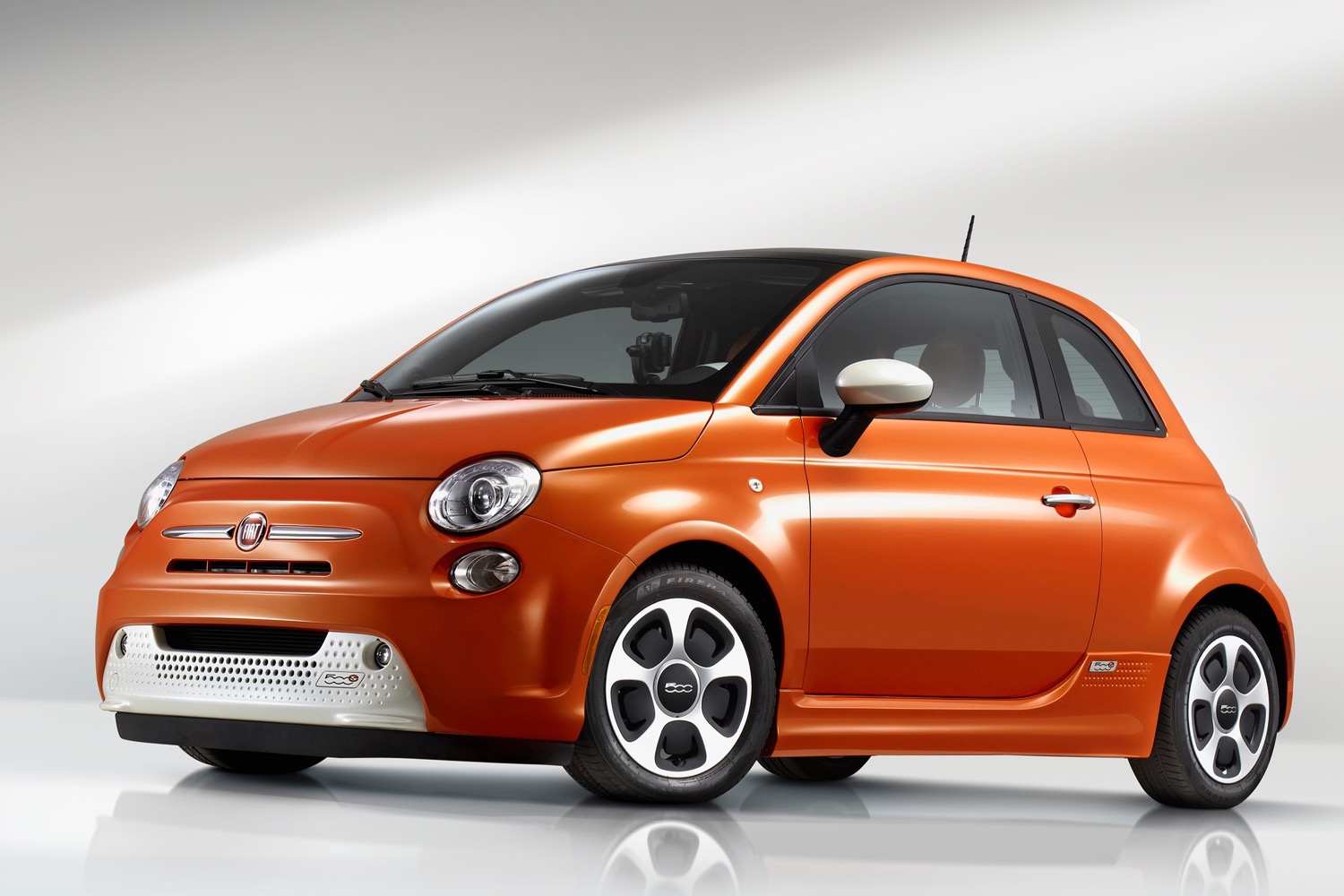 To distinguish the 500e from other 500 models, Fiat added dot-matrix graphics to the front and rear fasciae, for a retro-futuristic look. The 500e also sports model-specific badging and a rear spoiler, while its charge port is concealed where gasoline 500 models have their fuel fillers. The 500e is also available in some head-turning two-tone color schemes.
If the exterior is mostly retro, the 500e interior is thoroughly modern. The driver gets a 7.0-inch TFT display screen in place of a traditional instrument cluster. In addition to functioning as a speedometer, it can display audio, climate, charge, and trip information, as well as navigation directions and tire pressure monitoring. A 5.0-inch touchscreen for the Uconnect infotainment system sits atop the center of the dashboard, which also incorporates a strip of LEDs to indicate charge status.
Safety
Standard safety equipment on the 2017 Fiat 500e includes anti-lock brakes, stability and traction controls, hill-start assist, rear park assist, and seven airbags. The 500e also features an Audible Pedestrian Warning System that emits noises to alert pedestrians who might not otherwise hear the whisper-quiet electric car.
Verdict
The 2017 Fiat 500e combines the best of Fiat's small car with the best of zero-emission motoring.
For more information or to schedule a test drive of the 2017 Fiat 500e, contact us online or visit Stateline Chrysler Jeep Dodge Ram Fiat at 800 Gold Hill Rd, Fort Mill, SC 29708.
*EPA estimated miles per gallon of gasoline equivalent (MPGe). Actual mileage may vary.
**MSRP excludes destination, taxes, title and registration fees. Starting at price refers to the base model, optional equipment not included. A more expensive model may be shown. Pricing and offers may change at any time without notification. To get full pricing details, see your dealer.
Image: Fiat